Click here for Christmas Concert Info
The Stonewall Brigade Band is the oldest-continuous among over 2,000 community bands in the nation. Initially formed as a brass band, we have grown and changed into a community concert band with the usual woodwind, brass, and percussion instruments, averaging 70 playing members (out of about 100 on the active roll) on each Summer concert.  Our age range is 13 through 84. The band has had well over 1000 members during its long history. Our members come from several Shenandoah Valley cities and counties, and other areas of the Virginia and West Virginia.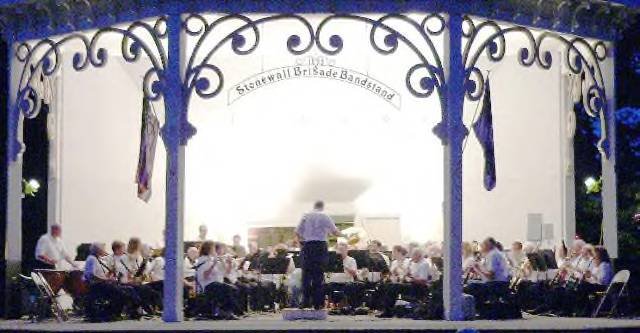 The Summer Concert Season features a free concert every Monday night at 8 pm, June, July and August in The Stonewall Brigade Bandstand in beautiful Gypsy Hill Park, Staunton VA. Summer Concerts follow a fairly consistent format, including a military march, an overture, a concert march, a sacred selection, a Broadway show medley, and several novelty, patriotic, and popular selections, ending with a Sousa march and the National Anthem. Several concerts have a thematic focus, such as Flag Day, Independence Day, Best of the Season, and the Kids Concert.
The 2017 Summer Season starts on Monday, June 5 with a concert in the park at 8 pm and continues through the end of August with our annual "Best of the Season" concert taking place on Monday, August 28. This will be the 129th year in Gypsy Hill Park in the 163rd year of the band's existence.
The annual Christmas Concert was held last December in the sanctuary at St. Paul's United Methodist Church, located at 2000 Shutterlee Mill Road, Staunton. Over $3,100 was raised from an offering to support The Salvation Army and the Valley Mission.
Rehearsals for the 2017 Christmas Concert and  the 2018 Summer Park Concert season will begin on Monday, October 2, 2017 and will continue every Monday through Memorial Day with break from December 18 to January 8. New members are welcome in all sections. For more information: