Membership in the Stonewall Brigade Band is open to any individual who is able to read music and play an instrument.
There's no audition required
All members are volunteers; there are no dues or fees.
We play the normal array of concert band instruments, and most members provide their own instruments. The band provides music stands, music, percussion equipment, tubas and a few other instruments for our members to use so that we maintain a balanced sound.
If you wish to join us but do not have an instrument, we can help you find one at a reasonable cost.
Rehearsals are held every Monday evening 8pm to 9:30pm, except during the summer (this is concert season) and the month of September. Concerts run June, July and August starting at 8 pm.
The band actively seeks adult members who were successful in their high school or college bands and middle or high school members who are proficient players and sight-readers and who will be regular in attendance. The band is always recruiting players for all sections, but in particular the trumpet, trombone, percussion, and french horn sections.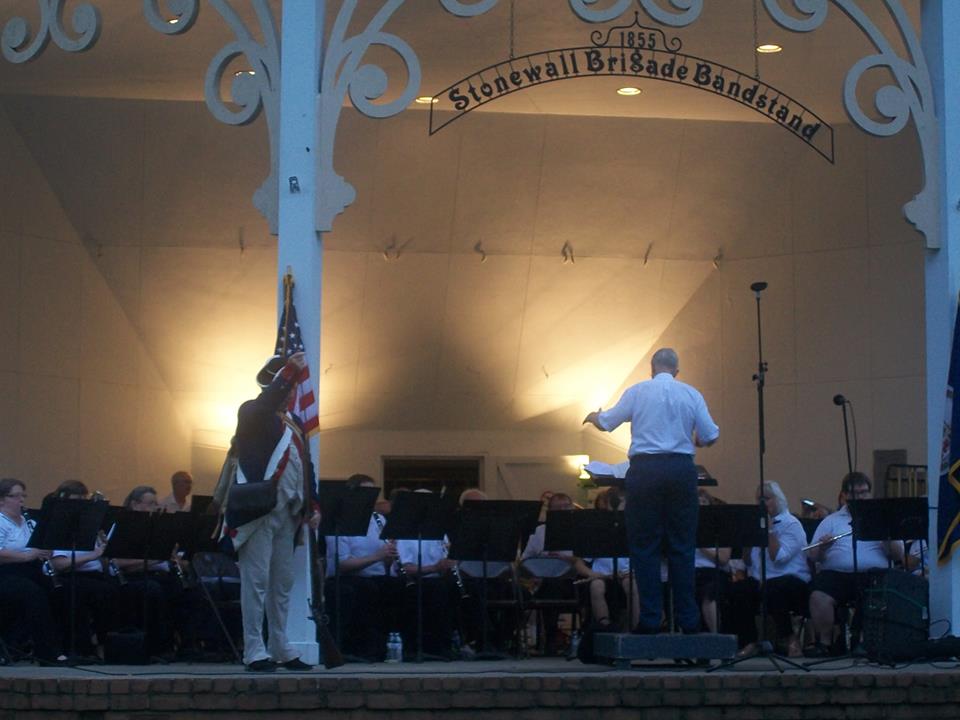 While we encourage perfect attendance, we would expect that a new member would attend at least two-thirds of the rehearsals in the fall rehearsal season and three-fourths of the rehearsals in the spring rehearsal season. Individuals become "associate members" upon participating in a rehearsal or concert, and become full members for life when voted upon by the membership after six months active participation by attending at least half the rehearsals during that time. Active full members have the privilege of voting in band business meetings.
Full members who do not attend at least one rehearsal during each three month period are placed on the inactive list until participation resumes with attendance at half or more of the rehearsals during a three month period. Placement within sections of the band is determined cooperatively by members of each section, under the direction of a section leader.
---
Prospective members can contact director Bob Moody, any current band member or a board member for more information about joining. You can expect to be invited to attend a rehearsal and "give it a try for a few weeks" to see if you enjoy the band enough to make it part of your weekly routine. Most new members discover how much fun it is to play different music each week in a band filled with volunteer members who truly love making music.
Has it been a while since you played your instrument?  We have refresher booklets for all instruments that you can download.  They start at "the beginning" and take you through most of the range of your instrument and most of the keys used in band music,  with familiar tunes that make it easy to tell when you're right.  This is the link to refresher books. 
The first year as a new member, most of the music is "new" to you, but by the second year you will discover that we only change about 20% of the music from year to year, so 80% of it will be familiar the second year. Once you join us, stay with us a couple of years for the "full effect" of how much fun it is to play in this outstanding band.
Most of the music we play was bought on vote of the members of the band over the years.  You will find the music playable and enjoyable to both you and the audiences at our concerts.  
Yes, we accept student members in grades 7 or above, who are proficient on their instruments, from local middle and high schools, private schools, and also homeschooled students.  We often have as many as 15 student members. Usually new student members are recommended by a current member of the band, who can be a student member,  or their band director.  Many take private lessons on their instruments through Staunton Music, Valley Music Academy, or individual teachers.  We prefer to have our student members distributed throughout the sections of the band and we like to have representation from all the middle and high schools in Staunton, Augusta County, and Waynesboro.  Our student members routinely do well in auditions for area and district honor bands.